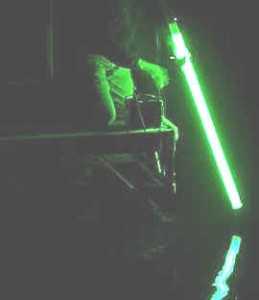 The Hydro Glow Fish Lights patented design utilizes the green light technology for improving your fishing activities during the night time hours. The light is designed to vertically submerge with only the top 3 to 5 inches of the light above the water level. This insures the entire illumination of the light is in the water where to fish are, not the bugs!!.
The luminating effect of the green light in water is far superior to other colors of light. This effect allows the light to penetrate farther. The superior light penetration and design does several things; virtually 100% of the light is submerged in the water, not floating on the surface; the area affected by the light is much larger with a 360 degree range; the larger area affected by the light attracts more bait fish as well as game fish to your targeted area.
The Hydro Glow Fish Light is made to stand up to the rigors of salt water fishing as well as fresh water. The bulbs are factory rated for 20000 hours use to provide years of great fishing enjoyment. The Hydro Glow Fish Light is powered by 12v DC, just attach to any 12v battery or manual battery charger.
The lights have proven to be effective in catching such salt water species as speckled trout, red fish, and a variety of other salt water species. The species of fresh water fish that are attracted to the lights are any species that is traditionally active at night and eat other fish!!
4′ Hydro Glow Light – $169.95
2′ Hydro Glow Light – $159.95
Protective Case – $25.00
Protective Case – $18.00
Total Price (Less Shipping) = $194.95
Total Price (Less Shipping) = $177.95
add $35 for overnight shipping service
add $20 for 3 day service
add $12.00 for 5-7 day service
For more information and some great photos of the Hydro Glow in action, visit www.hydroglow.com.